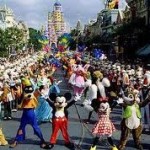 Avoiding the Crowd
If you're like me you come to the mountains to get away!  Problems arise when too many people all decide to get away at the same time!  Proper planning can assure you of getting the most of your vacation by following a few simple rules!
Rule #1:  Find and stay at a cabin that is in the proper setting.  Here at Smoky Mountain Golden Cabins our number one concern when adding a new cabin is the setting and location.  We look for cabins that are located in the "Peaceful side of the Smokies",  Wears Valley and Townsend, TN.  Cabins in this area of the Smokies are both "away from it all" while at the same time only a few minutes drive to "all the action of the attractions"!
Rule # 2:  Plan your trip to the mountains in the offseason.  Not only will you avoid the crowds but you will also save $$$ by booking in off-peak times of the year!  If you can't take advantage of rule number two,  see rule number three!
Rule # 3:  Plan your stay for mid-week.  Usually, the slowest days of the week are Tuesday, Wednesday & even Thursday.  But if you're already staying for a week,  just plan your sightseeing and attraction visits for these days and stay close to the cabin on weekends!
Rule #4:  Plan on doing your shopping while on your way to the mountains or later in the evening.  You don't want to waste your valuable vacation time standing in line at the cash register.  Everyone wants to check in early,  this is a good time to stop while on your way to the mountains and do your grocery shopping.  You'll save a ton of time and probably money too!
The Smoky Mountains are a great place to visit!  And they attract a lot of guests every year who love to come up and enjoy the mountains in the spring,  summer and fall!  Our number one recommendation on getting most out of your Smoky Mountain vacation is to avoid the crowd!