The Great Smoky Mountains National Park has ample rivers and streams stocked with rainbow, brown and speckled trout that tempt and challenge those who love fly fishing! This is a wonderful way to escape the hustle and bustle of a busy life and get away to the mountains to enjoy a day testing your angling skills! Guide to fly fishing the Great Smoky Mountains, game fishing in Douglas Lake, finding outfitters and local fishing guides to help and assist you in becoming familiar with all the best spots and gear to make your getaway vacation extra special!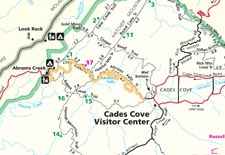 Abrams Creek / near Cades Cove
It can be accessed from Abrams Falls Trail in Cades Cove or from the Abram Creek Campground on the South end of the Park! Good Fishing with trout ranging up to 12 inches in size!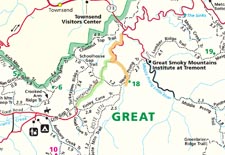 Laurel Creek & West Prong / Little River
Both of these follow the road leading up to Cades Cove and are often over looked by anglers! Can also be accessed by West Prong Hiking Trail. Willing population of rainbow trout! Easy Access with many pull outs available next to the road!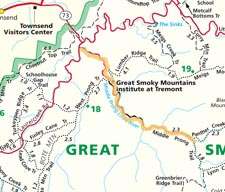 Middle Prong / of the Little River
This steam runs along side the road that leads up to Tremont in the national park. Beautiful small to medium size trout stream! Rainbow trout, Brown Trout & Small Mouth Bass!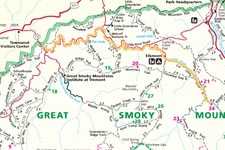 East Prong / of the Little River
The largest and most often fished! You can access much of it off route 73 that runs through the park between Townsend and Metcalf Bottoms. There are also a number of tributaries that have excellent fishing! Brown & Rainbow Trout!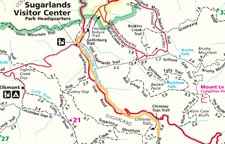 West Prong / of the Little Pigeon River
One of the best fly fishing streams in the Park! The west prong of the little Pigeon River runs beside route 441 and 71 through the park between Gatlinburg and up towards Clingmans Dome.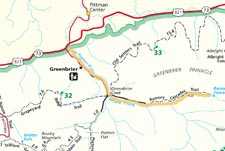 Middle Prong of the Little Pigeon River
One of the Parks most beautiful streams! Follows the road out of Gatlinburg. Nice stream but not quite as good fishing as some of the others!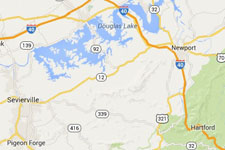 Douglas Lake
Large Mouth Bass, Walleye, Crappie, Blue Gill & Catfish are some of the game fish you will find when fishing this Tennessee Reservoir Lake! Hiring a guide and boat make it even more enjoyable for the young and old alike. Guided Fishing Trips are sure to produce a nice catch!
Places to Shop / Local Knowledge
Little River Outfitters / Townsend, Tn
106 Town Square Dr, Townsend, TN 37882
(865) 448-9459

GSM Outfitters / Wears Valley, Tn
3275 Wears Valley Rd Wears Valley, TN
(865) 366-2608

Bass Pro Shops / Kodak, Tn
3629 Outdoor Sportsman Pl, Kodak, TN 37764
(865) 932-5600
(at the exit off I-40 to the Smokies!)