Welcome to the quiet side of the Smokies
Smoky Mountain Golden Cabins is a privately owned and operated cabin company. That means that we only rent cabins that we actually own and we do not rent other people's cabins. We feel this is the best of both worlds. We have complete control over the location, setting, maintinence of our cabin and this allows us to provide you with the best possible service!
When it comes to the complete Smoky Mountain experience, Smoky Mountain Golden Cabins is the place to be! No matter what your looking for, our Wears Valley Tn Cabin Rentals and Townsend Tn Cabin Rentals will fulfill your dreams of a Tennessee vacation!
At Smoky Mountain Golden Cabins we realize what's important to you! Your needs and expectations are our number one concern and we promise to work endlessly to see your vacation is all you intended it to be!
All cabins come complete with a fully stocked kitchen, bedding and linen's. Plus each cabin comes with a starter supply of paper products and detergent's for the dishwasher and washing machine, all to make the start of your stay as seemless as possible!
"Your going to enjoy that peaceful feeling you get from a Smoky Mountain Golden Cabin!"
Spectacular Mountain Views!

Secluded & Private Settings!

Privately Owned and Operated Cabins

Peaceful setting and it's easy central location to all the attractions

Come with Hot Tubs, Jacuzzi Tubs & Seasonal Fireplaces!

Many of our cabins are furnished with Game Rooms, Pool Tables, Air Hockey, Foosball Tables, Theater Rooms, Free Wifi and much more!
Meet the Families behind the Memories
Smoky Mountain Golden Cabins is a privately owned and operated cabin company. You may notice that the model we use for buying, managing and maintaining cabins is fairly consistant from one company to the next. Each company is completely separate but we do work together and help one another when ever possible! After all, it's family!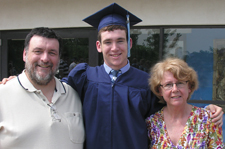 Donn & Margaret Tisch
 Smoky Mountain Golden Cabins
  Donn and Margaret Tisch are the owners of Smoky Mountain Golden Cabins. Smoky Mountain Golden Cabins consist of the following cabins; Golden Memories, Simply Golden, Family Memories, Bear Falls,  Heaven's View and Golden View Lodge. And the links to the rates and reservations of these cabins go directly to Donn and Margaret's reservation software and you are renting directly from them.
Donn is originally from South Dakota and grew up on a farm in Minnesota. Margaret is from County Cork, Ireland, and still has lots of family back in Europe. They have two son's. The eldest is Jerry who is currently living in Fargo ND and is the owner of Black Bear Lodge cabin. And the younger is Bobby who is attending college in South Dakota.
The remaining cabins on our website belong to family members and we have included their cabins to give you a wider selection and to offer their cabins more exposure.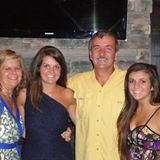 Mark & Debbie Tisch
 Black Bear Hollow Cabins
  Mark is Donn's younger brother. Mark and Debbie are full time residents of Maryville, Tn and they own the following cabins;  Precious Memories & Over the Rainbow.
When you rent one of these cabins you are renting directly from Mark and Debbie and the links to the rates and reservation of those cabins go directly to their reservation software.
To Contact Mark and Debbie directly, their phone number is 865.254.4444 or email at blackbearhollowtn@gmail.com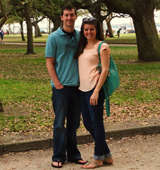 Danny & Tara Orr
Paradise Ridge Cabins
Tara is Donn's niece and Mark's daughter! Danny and Tara Orr are the owners of the following cabins; Bear Cave, Bear Ridge, Bear Creek, Paradise View, Bear Mountain and Smokey Mountain Memories. And again, if you book one of their cabins, it goes directly to their reservation software and you renting directly from them. To contact Danny and Tara directly thier phone number is 865.363.3266 and their email is paradiseridgecabins@gmail.com
We believe in God, Family and Country! Donn and Margaret named their first cabin, "Golden Memories", by design! It is our hope that everyone one of our guests experience a special moment during their stay that they can look back on some day with fond memories. A special connection with a spouse, a child or in spiritual reflection that they will remember and carry with them for a life time! Time stands still for no man and it is these special times spent with loved ones that create the memories that last a life time! It is our belief that this is what a vacation to the mountains is all about!
Very Sincerely Yours,
Donn & Margaret Tisch
Smoky Mountain Golden Cabins
3022 Hatcher Mountain Rd,
Sevierville, Tn 37862
No request is too big or too small for our team. If it matters to you, it matters to us. Let us make your escape perfect.