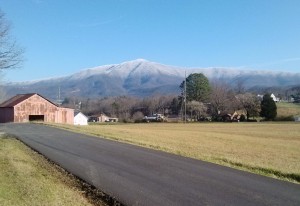 Here is a photo I snapped of Cove Mountain over the holidays in 2012 from the driveway of our Family Memories cabin!
Cove Mountain is at an elevation of 3481 feet at the summit.  The cabin is at an elevation of about 1400 feet.
So it looks like everything above 2600 feet was covered in snow at least for a short while!  It makes for beautiful views of the mountains in the winter when it snows!  We got some great comments from guests who stayed with us this Christmas who enjoyed the snow and the views!
Winter is an excellent time to come to the mountains.  The weather is mild and you can get some great deals on cabins at Smoky Mountain Golden Cabins.  Book your winter getaway today using our online reservation system or just give us a call at 865-202-7657!