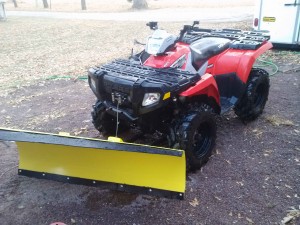 Smoky Mountain Golden Cabins  has purchased some new snow removal equipment in anticipation of the snow fall this winter!  This is the best way we know to keep it from snowing!  So far it has worked!
Our 2007 Polaris Sportsman ATV is now equipped with a 52-inch country plow (made for doing roads and long driveways) and a salt spreader as well (not pictured).
Our guests can be assured that we do everything possible to keep the road to the cabin open.  To date, we have always been able to get guests to all of our cabins!  Some come on up to the mountains and enjoy the beautiful views and affordable rates!
Smoky Mountain Golden Cabins  or give us a call at 865.202.7657