Thanksgiving comes with a blast of snow!  Wears Valley got up to two inches of snow at some of the cabins this past week.  Is this what the winter will bring?  Local knowledge tells of a good bit of snow that is expected.  This they say is evident from some insects that are particularly abundant and by the coats on the furry animals in the area.  Time will tell!  Here are some photos taken the next morning as we drove to check the roads leading up to the cabins!  This first photo is of the gate at Golden View Lodge.
This photo was taken on the road leading up to Heaven's View cabin!  As you can see the roadway is still dry as the ground temperature still above freezing.  But the grass and leaves keep the snow off the ground,  so this is why there is snow on the landscape.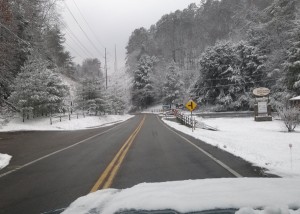 This photo was taken on route 321,  Wears Valley road right at the Blount county line,  just a few feet to where it descends down to Townsend.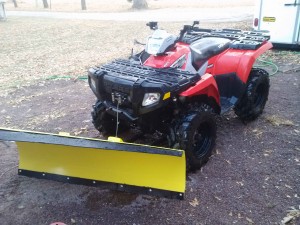 At Smoky Mountain Golden Cabins we have our own snow removal equipment and work hard to keep the roads to the cabins open for our guests!  Give us a call for all weather cabins at 865.202.7657 and come up and enjoy the beautiful scenery this winter!