School House Gap Hiking Trail 
Schoolhouse gap trail is one that features a hike in woods and also has its fair share of wildflowers along the way!  This is my kind of trail with a rating of "easy"!  Round trip is only a little less than four miles and climbs in elevation of only a little over 500 feet.  Even so,  the highest point along the trail reaches a height of 2150 feet.
To find the Schoolhouse gap trail just take route 73 east out of Townsend and when you reach the fork in the road bear right on to Laurel Creek Road heading up towards cades cove.  Push or odometer here and travel 3.7 miles and look for the parking area on the right-hand side of the road.
Notice:
Call ahead and check with the Rangers at Cades Cove to see if this trail is open or if there are any restrictions on it,  especially in the spring.  It has in the past been closed because of aggressive bear activity.  See here on what to do if you meet a bear in the woods.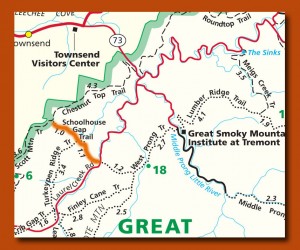 This is a wide trail and an easy hike.  There are a good number of flowers along the way as well.
And you will be needing a great place to stay near the Trail for when your done with your day of hiking where you can relax and rest – the best place to stay is Smoky Mountain Golden Cabins! 865-202-7657