Water Falls you can Hike too
Here are some of the most well-known waterfalls in the Smoky Mountains that are all fairly close to our Smoky Mountain Golden Cabins!  Each of these trails is well documented on our website Hike the Smokies,  so we will just be giving you a quick outline of each here.
First on our list is Abrams Falls.
Abram falls is only a little over twenty feet in height but is by sheer volume the largest falls in the park.  This falls is located with in Cades Cove and the nearest town would be Townsend, Tn.  As far as the number of visitors goes,  Abram Falls would rank near the top of the list.  You can expect a lot of company while hiking up here on a well worn,  clearly marked trail.  The trail is rated as being moderate in difficulty and is 5 miles round trip in length.  To read more on the Falls and the Trail here…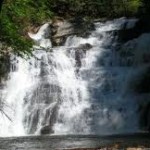 Second on our list is Laurel Falls
You will find Laurel Falls inside the Great Smoky Mountains National Park and closest to Wears Valley, Tn.  Laurel Falls is the most visited falls in the area.  The falls is 80 feet in height and is named after the shrub that blooms all around this area.  The trail to the Falls is moderately difficult but only two and half miles roundtrip!  The trail is actually paved and that makes it somewhat easier on the legs when hiking up to see the water.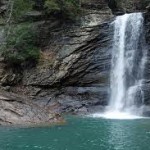 Third on our list is Rainbow Falls
Rainbow Falls is also located within the boundaries of the Park and is closest to Gatlinburg. The falls here are also eighty feet in height and the mist from fall is what creates the "rainbow" for which it is named.  Roundtrip up and back is about five and a half miles and considered to be moderate in difficulty.  For more information see…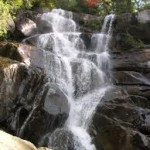 Fourth on the List is Ramseys Cascades
This spectacular falls drops one hundred feet in height and cascades off rocks and outcroppings making its way down to the bottom.  The hike up to the falls is over eight miles round trip and considered to be strenuous in nature.  The falls are located near Greenbrier and that too is within the boundary of the Park system past Gatlinburg.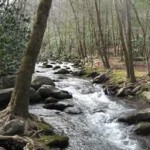 And lastly,  I believe it is safe to say that every single creek or river within the park contains some falls,  cascades and rapids.  So don't feel as if your confined to just these most famous falls when it comes to enjoying our Great Smoky Mountains National Park!  For more information all hiking trails close to where you are staying you can use our new guide to hiking the smokies  and if your in need of a great cabin near the Park and close to many of these Falls please visit our Smoky Mountain Golden Cabins!