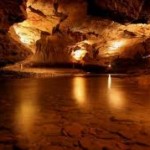 The Tuckaleechee Caverns
Address:  825 Cavern Rd, Townsend, TN 37882
Phone Number: (865) 448-2274
Website: www.tuckaleecheecaverns.com
The Tuckaleechee Caverns are located just outside of Townsend Tennessee on the Old Cades Cove road that works it's way up the mountain toward the National Park.
This is one of the hidden Gems that few people know about.  If you're looking for a natural attraction that won't break the bank,  Tuckaleechee Caverns will not disappoint!
The Caverns maintain a  constant temperature of about 58 degree's – making it a great place to visit around mid-summer!  This is one place the kids will always remember!
To find a place to stay while your visiting the Smoky Mountains area,  Check out the cabins at Smoky Mountain Golden Cabins.  Beautiful cabins from 1 to 6 bedrooms in fantastic settings and great locations!  Call Today to reserve your cabin!  865-202-7657