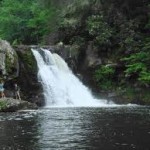 Abram Falls Trail
Abram Falls Trail is located inside of Cades Cove and is one of the most frequently used trails in the smoky mountains!  The round trip to the falls and back is about 5 miles and the hike is considered to "moderately difficult".  The total elevation gain is 340 feet while the highest elevation achieved will be 1710 feet above sea level.
Just a note here on safety:  If you get to hiking this trail bring along some drinking water.  On a hot day, it can be tempting to take a slug of water from the river or the falls,  but you do not want to do this.  Neither do you want to attempt to go swimming.  The currents are very strong and capable of pulling you under.  Some of the mountain streams may contain a critter so small you can not see him and you do not want him!  (think Mexico)  So don't fall into the trap – bring along some drinking water on any hike you take!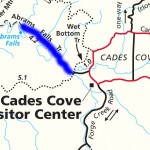 Now to find the start of this trail I recommend stopping at the visitor's center as you enter the park and asking them for directions.  They will have the latest information about the trail and can direct you to the beginning saving you a ton of time!  So it is worth the stop.  But now for our directions,  go around the loop five miles until you come to Number 10 marker.  After you cross Abrams Creek you will see a gravel road that runs off to the right,  take this road across the field – here you will find the beginning of the trail to Abrams Falls.
Now you're going to want a cabin that's not forever and a day away to stay at after your engaging 5-mile hike,  so this is where I shamelessly plug our Smoky Mountain Golden Cabins!  A great hike deserves a great cabin!  Nothing better than a cold drink in the hot tub to give the old bod a bit of rest and relaxation!