Cabin Summary:
Bedrooms: 4
Sleeps: 10
Setting: Secluded on 15 acres, mountain views
Location: Wears Valley/ Townsend, Tn
Price Range: $169 – $649
…See our Online Guestbook here!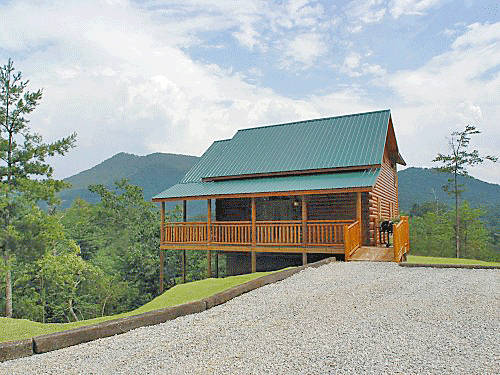 Welcome to one of the most secluded cabins in the Smoky Mountains! If your looking for that special one in a million kind of Smoky Mountain cabin, this is it! Precious Memories is located in Fawn Hollow on the very west end of Wears Valley, Tn. The cabin features excellent views of the mountains from every side of the cabin!
This premier accommodation is in a ideal location for traveling to and from Pigeon Forge, Gatlinburg and Townsend, Tn. And being just outside the Great Smoky Mountains National Park, the cabin is central to anywhere in the Smokies you might want to visit!
There is no better feeling than returning home to a beautiful one of kind cabin after a day of sight seeing in the park, shopping in Sevierville or enjoying a show in a theater in Pigeon Forge. Relax and take in all of the majesty and beauty of the great Smoky Mountains from the balcony of this gorgeous cabin!
Amenities & Features:

Personal Tour Videos

Game Room
Fire Place
Pool Table
Secluded Hot Tub with jetted massage and beautiful Mountain Views
Internet Available for a fee – Must be reserved with cabin
Flat Screen TVs with Comcast Cable
85+ Channels
DVD Player
Jacuzzi Tub
Seasonal Gas Fireplace with stacked stone
2 King Beds
2 Queen Beds
TVs in Bedrooms
Pillow Top Mattress
Dishwasher
Microwave
Fully Equipped Kitchen
Front Load Washer/Dryer
Starter supply of detergents
BBQ Grills – Propane on Covered Porch
Covered Porch with Rockers

Cabin Rental Extra's!

In Cabin Wedding Services!
Easy All-Weather Access!
Very Good Cell Phone Coverage!
Gas Fireplaces!
Fire Pit!
Hardwood Oak Floors!
Rocking Chairs!
Therapeutic Hot Tub – 28 Jets!
Key less Entry Locks!
Express Check In / Out! Drive straight to the cabin!
Handicap accessible!
Fully equipped kitchen!
Starter supply of detergents and paper products!
Professionally & Tastefully Decorated!
Precious Memories – Reviews
Precious Memories has long been one of the finest most secluded cabins available for rent in the Smoky Mountains today! But you need not take my word for it (although you certainly could), read what previous guests have had to stay about this one of kind cabin!
30+ additional reviews on our Online Guestbook here!
---
A Great stay at Precious Memories! 5/5 Stars!★★★★★
  We would like to thank you for sharing your beautiful cabin with our family! The cabin is beautiful, spacious, and very comfortable. The views were breath taking and the feeling of being away from all the city hussle and bussle was very relaxing! The kids enjoyed the game room and everyone got use the hot tub. We especially like the location of the cabin! Very easy drive to all the places we went sight seeing, and without much traffic! Super! Hope to return very soon!
Micheal and Cindy, Ontario
---
 Best Vacation we've had in Years! 5/5 Stars!★★★★★
  We we arrived at the cabin and opened the front door we knew had chosen the perfect place for our family vacation! The cabin was very clean, comfortable,easy to find. The kitchen had everything we needed and more. Great views of the mountains in every direction! Had wonderful family time in the game room shooting pool! Breakfast of the deck was a favorite time for everyone to get together and plan the days activities! Ricky, Smithsville, NC
---
 Breath Taking Views! 5/5 Stars!★★★★★
  Awesome Views! Perfectly relaxing! We had planned on doing a lot of sight seeing and going to Dollywood with the family. But the cabin was so nice we spent almost the entire time at the cabin! We will have to come back again to go sight seeing and are looking forward to staying here again! — Thank you so much, James & Marie Jacksonville, FL
---
 Breath Taking Views! 5/5 Stars!★★★★★
This is our second time staying at the cabin! It is starting to feel like home! Find new and interesting things in the area everytime we come up to stay. God Bless! — Kim C., Alabama
---
 Wonderful Time! 5/5 Stars!★★★★★
  Wonderful! That's how my wife and I would describe our week at Precious Memories. What a great place to recharge our marriage! Mountain Bliss! — Thanks so much. the Wittman's, Indy
---
  Very Enjoyable Stay! 5/5 Stars!★★★★★
We loved the decor – tastefully done! The hot tub was a welcome friend after long hours of sight seeing! Great to have a kitchen instead of eating out all the time! Loved the Fireplace in the evenings! Really enjoyed our time here! — Friends from Ohio
"Precious Memories" / Cabin Inventory
Packing for a large vacation can be difficult and stressful too. With this in mind we have included this inventory of the cabin to assist you with know what is in the cabin. This makes knowing what to bring along and what can be left home alot easier! The cabin has virtually everything you will need except for personal items and groceries! If you forget something, no worries! There is a Dollar General Store in Wears Valley, just a few minutes away, that stocks a whole host of "oh, we forgot to brings"! Now from time to time things at the cabin get updated or replaced. So if there is some item that you have to have, please call ahead to confirm that it is still going to be available at the cabin for your stay!
  Bed & Bath Furnishings
King Size Beds w/ balcony's
Queen Size Bed
End table w/ drawers
Flat Screen TVs / cable
Lamps
Large Jacuzzi Tub
closets
mirrors
Shower with Tub
Sinks
Toilets
Bath Lenin
Hand Lenin Towels
Wash Cloths
Bed Lenin for Bed
Pillow Top Mattress & Pillows
Front Load Washer / Dryer
Laundry Detergents
Ironing Board & Iron
  Living & Dining Room Furnishings
Dining Room Table & 6 Chairs
Breakfast Bar w/ 4 stools
Sofa
Love Seat
Reclining Chairs
Stacked Stone Gas Log Fireplace
Flat Screen Television
DVD Player
Coffee Table
End Table
Lamps
  Game Room
Slate Pool Table
Several Cue Sticks
ball racks
Cue Stick Rack
16 Balls & Cue Chauk
Brushes
Stools
Fireplace
Flat screen TV
  Kitchen & Appliances
Refrigerator – Freezer
Glass Top Stove w/ oven
Dishwasher
Microwave
Coffee Maker
Toaster
Can Opener
Kitchen Towels
Paper Towels
Coffee Filters
Salt, Pepper & Spices
Dishes, Cups, Plates & glasses
Sliverware
Knives
Cutting Boards
Cooking Utensils
Cookie Sheets
Pots & Pans
  Multiple Porches & Decks
Covered Porch
Patio Table
Patio Chairs – 4
Log Rocking Chairs

Gas BBQ Grill
L.P. Gas & Tank
BBQ Utinsels

Balcony Deck:
Rocking Chairs
6 person Hot Tub
Hot Tub Cover
Travel Times –
Black Bear Hollow is an awesome central location that will save you valuable travel time when visiting all the area attractions!
Travel times to some popular local area and attractions.

Pigeon Forge – 13 minutes
Gatlinburg – 28 minutes
Great Smoky Mountains National Park – 6 minutes
Cades Cove -25 minutes
Townsend – 6 minutes
Dollywood – 25 minutes
Knoxville Airport – 35 minutes
(All times are estimated and taken from google maps)
RENTAL AGREEMENT:
When you make a reservation of a Smoky Mountain Golden Cabin you are agreeing to the following terms. We are a family run company who rents to families. If your group is not family and has unrelated guests, please check with us before booking a cabin.
PAYMENTS:
To make a reservation we require 1/3 of the total rental amount down on a credit card with the balance due 30 days prior to your arrival date. Reservations will be cancelled for failure to pay the balance after 2 days late. and the cabin put back on the calendar and advertised as available for rent.
CANCELLATIONS:
The fee to cancel is equal to 1/3 of the total rental amount (same as your 1st payment). Cancellations received 30 days or less, prior to the arrival date, will be responsible for the entire rental amount unless the cabin is rented to another party. If all of the dates can be re-rented, you will recieve a refund less the cancellation fee and any difference in the rate. (it is often necessary to run last minute specials at a late date)
CHECK IN/OUT TIMES:
Check in time is after 4 pm.
On certain days/times of year the cleaning crew is very busy. They do their level best to have every cabin ready by 4 pm. So the check in time is not carved in stone. There are No refunds if your cabin is not ready by 4 pm.
Early Check In: Everyone want to check in early. We get it. And so, if your cabin is ready early and your welcome to check in up to two hours early.

Check out: is before 10 am.
The check out time is carved in stone! There will be a late check out charge for anyone checking out after 10 am. Please check out on time. The cleaners need to have the cabin vacant when they arrive. As already stated, "everyone wants to check in early" and the girls need to have access to the cabin when they drive up there, they can be very busy.
SMOKING:
All cabins are Non-smoking! You may smoke outdoors, please safely dispose of and distinguish smoking material. Please pick up cigarette butts. Smoking in the cabin is considered cabin abuse and you will be billed for a complete cleaning and deodorizing of the cabin – minimum charge is $300.
PETS:
Some of our cabins are pet friendly and some are not.
1.) All pets must be approved before you make a reservation and additional pet fee paid.
2.) Pets are not allowed on furnishings.
3.) Pets must not be left alone or unsupervised unless they are secured in your portable kennel.
4.) Pets that chew, bark, bite or who are not trained are not allowed.
5.) Please be responsible and pick up after your pet!
PARTY POLICY:
We do not allow parties of any kind. We reserve the right to and will require everyone to leave the property without notice or refund for having a party.
VISITORS:
Non-paying guests are not allowed unless permission is granted. This means if you have family in the area and would like to have them come and visit you at the cabin, you need to let us know. If your planning an event, and have guests staying in the area that will be visiting the cabins, you need to let us know in advance. Cabins are set up for as many guests as they are advertised to sleep.
ABUSING PROPERTY:
We reserve the right to ask anyone to leave any property without notice or refund for any kind of abuse to the property. Abusing property is not allowed and we reserve the right to bill your account for repairs caused by abuse outside of normal wear and tear. (broken cue sticks are $25)
MOVING FURNITURE:
Do not move the furniture in the cabin. Do not move inside furniture outside. Do not move outside furniture inside. Do not move pool tables. Do not move Tv's. You can move the extra chairs provided in the bedrooms to the dining room if you need extra seating. Please return the furniture to where you found it. We charge for having to move furniture back. (If you move a pool table, it will be necessary to move it back, $300. It may need refelting, $300. You will most likely break a leg off, $3500 for a new table. And if it falls on you, it can result in injury or death. Please do not attempt to move the pool table!)
CLEANING CHARGES:
The cleaning fee is based on the average time required to ready the property for the next guest. We reserve the right to charge your account for additional cleaning time! To avoid additional cleaning charges please leave the cabin in a reasonable condition!
HOT TUB:
Please keep the hot tub covered when not in use. You must read and follow all directions and safety procedures for using the hot tubs that are posted near the tub or in the cabin book. Do not sit, stand on or damage hot tub covers. (broken hot tub covers are $300)
AIR CONDITIONER:
Please do not leave doors/windows open and run the A/C at the same time. Do Not run the A/C and Fireplaces at the same time. It will cause the A/C unit to freeze up causing permanent damage to the unit!
FIREPLACE:
All gas fireplaces are seasonal. Gas fireplaces are turned on and off depending on seasonal conditions. Generally they are on around the first week in November and off about mid March. If you have questions, please call 865.202.7657
Please do not move or adjust gas logs. No cooking on a gas log fireplace.
FIRE PIT:
If your cabin has a firepit, please use caution when having a fire. Fire should never be left unattended and please be aware high winds can develop at anytime, day or night! Be sure to extinguish all fires thoroughly. If you start a forest fire or burn a building down, you will be held responsible!
Check to make sure there are no burning bans in place by calling the park 865-436-1200.
There is to be no scrounging of firewood from the woods around the cabin. Please purchase fire wood to burn from a local merchant or give us a call if you'd like a large amount delivered to the cabin.
FIRE WORKS or FIRE ARMS:
Shooting or Possessing Fire Works or Fire Arms is strictly prohibited!
PEST CONTROL:
Welcome to the mountains. We have pest control company who checks and treats all of our cabins on a regular basis. If pest control comes to the cabin for a scheduled visit during your stay, please allow them into spray. If you have problems with a pests while at the cabin, give us a call and we will have pest control come to treat the cabin as soon as they are available. Do you part and keep doors and windows closed to keep unwanted pests out of the cabin! Thank you.
ps. carpenter bee's are a fact of life in the mountains in the spring of the year. They are all but harmless to people.
WILDLIFE
We do have wild animals in the mountains and woods around the cabins. Please do not leave any trash or food outside of the cabin or in your car. Please be sure to keep the car windows up. Do not feed the wild animals or birds.
AGE:
To rent a one bedroom cabin you must be at least 21 years old. To rent a cabin with 2 or more bedrooms, you must be 25 years old and responsible. We reserve the right to refuse to rent cabins to anyone who we deem to be not responsible or when there is a situation that seems questionable.
If you have a group of friends who are not related by blood to one another, there are greater age restrictions. Please call us for further details.
For exceptions — and we do make exceptions occasionally, especially for honeymoons and anniversaries! — please call 865-202-7657, let's talk about it!
THANK YOU!
Your respect and cooperation is greatly appreciated!
Just a Note…
When we started renting cabins we had no rental agreement. As time passed and things happened the rental agreement got started and continues to grow. We make every effort to keep things as simple as possible. Unfortunately, some things need to be spelled out and so the rental agreement is necessary. There is no substitute for common sense. So even if something is not detailed here, if you have doubts, please give us a call. Thanks for understanding.

** Rental Agreements are subject to being updated at any time.**
(and almost certainly will have to be…)