Cabin Summary:
Bedrooms: 5 + loft
Sleeps: 15
Setting: Secluded wooded setting on 5 acres
Location: Wears Valley
Price Range: $129 – $549
…See our Online Guestbook here!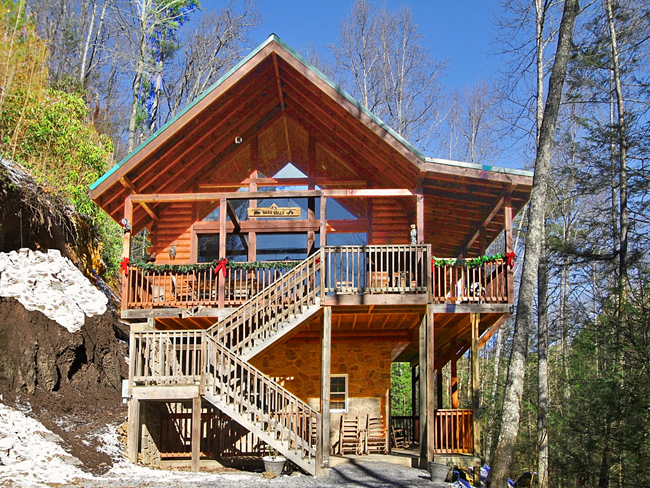 Secluded Setting on five acres in Black Bear Hollow!
Bear Falls Cabin was built just above a creek in Black Bear Hollow at the end of Wears Valley in Tennessee. You will love the location being only 15 minutes outside of Pigeon Forge, only 10 minutes from the Great Smoky Mountains National Park and Townsend, Tn. Bear Falls Cabin is on a 5 acre setting that features the creek, a small waterfall and cave. Black Bear Hollow has a covered picnic area and totals fifty eight acres of beautiful woods nestled in the mountains!
At the cabin you will be very comfortable using the gourmet kitchen to prepare all of your families favorite dishes! Large covered porches will add to your enjoyment as you relax you cares away rocking on the deck or sitting in the hot tub! Bear Falls Cabin makes the perfect accommodation for family vacations, family reunions or a sisters escape!
Amenities:
Hot Tub – private!
Custom fire pit – enjoying roasting marshmallows!
Swimming Pool access -outdoor!
Fishing Pond Access – catch n release!
5 Large LED Television – cable, locals, sports, movies!
DVD player so you can watch a movie!
WiFi Internet – high speed cable!
Game Room – pool table, foosball and air hockey table!
Main king bedroom with private Jacuzzi!
Pillow top mattress for maximum comfort!
Beautiful stacked stone gas log Fireplace!
Features:
Secluded setting only about a 1/4 mile off Wear Valley Road!
Easy to find & drive – only minutes to attractions & sights!
Gated paved – no mountain road!
Very unique property with a creek, cave and waterfall near by!
Parking for 4 cars with extra parking at end of driveway!
Cabin Extras:
Keyless gate code & door code!
Express check-in, drive straight to cabin!
Occasional outdoor furnishings, patio set, rockers!
Fully equipped kitchen!
Big dining room table!
Huge Great Room – cathedral ceilings!
Covered Deck!
Nobody says it better than our guests who have already stayed!  A special thank you to everyone who took the time to share their experience – we so appreciate you!
…shared from our Online Guestbook!
---
Beautiful secluded home!
Our stay was wonderful! Our group of 12 had plenty of room. The kitchen/living room setup was ideal. It was nice that we didn't have to drive too far up the mountain. All around great cabin, wonderful hosts!
Audrey F.
Nashville
Stayed January 12, 2018 to January 16, 2018(Smoky Mountain Golden Cabins, Bear Falls cabin )
Beautiful, Clean, Amazing Views
We had an amazing time at the cabins. Our group ranged from ages 1 – 41. Everything you would need was available. There was even a baby gate available for use. The owners are amazing. I reached out to upon my arrival about some issues, and they promptly responded and resolved the issues. I highly recommend these cabins, and look forward to returning for a third visit.
Jennica H.
Miami
Stayed December 30, 2017 to January 7, 2018(Smoky Mountain Golden Cabins, Bear Falls cabin )
Girls Weekend
I planned this girls trip to come see a show Thurs night at a bar in knoxville. The 4 other girls live near Winchester and would drive up, I was flying down from OH. Weds night we found out they cancelled the show. I said well, we'll still have a great time! By golly we did. Smoky Mtns feels like home to me, TN im general feels like home. It'd been over 10 years since I been and your place was amazing. The girls had a great time, it was relaxing, fun and full of memories for a quick 48 hrs. Thank you for sharing your home, the place was immaculate, towels were shaped cute, having a starter supply of everything was nice. Plan on being back real soon! Jen and girls
Jen K
Brunswick Hills, OH
Stayed December 14, 2017 to December 17, 2017(Smoky Mountain Golden Cabins, Bear Falls cabin )
Little Bit of Heaven
Black Bear Hollow has been our Family's "Thanksmas" vacation place for the last several years. We love the peaceful & serene setting, the quiet solitude, and spacious of the Tisch family's cabins. Their cabins are always clean & neat with all the amenities needed for a relaxing time in the mountains. We would not think of staying anywhere else !
William C.
Sugar Hill, Georgia
Stayed November 29, 2017 to December 7, 2017(Smoky Mountain Golden Cabins, Bear Falls cabin )
Excellent Accommodations
Great location, easy access, family friendly, well appointed cabin. We thoroughly enjoyed our stay and would recommend. We will visit again.
Joyce G.
Stayed November 21, 2017 to November 27, 2017(Smoky Mountain Golden Cabins, Bear Falls cabin )
Adult Vacay 2017
OMG, we all fell in LOVE with Bear Falls cabin!!! There was 10 of us, and we had so much room. I loved the view out the main windows!!!! The kitchen is amazing!!!! We will definately be staying here for our yearly trip. I loved being away from the hustle & bustle of town. And being only minutes from Cades Cove!!!! Property management is wonderful, if there's an issue, they get right on it!! Thank you guys so much for having such an awesome cabin for rent!!! See U soon Bear Falls!!!??
Trish F.
Inman SC
Stayed November 9, 2017 to November 13, 2017(Smoky Mountain Golden Cabins, Bear Falls cabin )
A great cabin in a wonderful community
We rented this cabin for a long weekend in the mountains with our children and grandchildren. Everyone loved this cabin! It was beautiful inside and out and it had games that the children could play like Foosball and air hockey. We loved the fire-pit area where we roasted marshmallows and made s'mores. The cabin is also in a great location which gives you access to some of the back-roads to get around Pigeon Forge traffic! We are glad we found Smoky Mountain Golden Cabins on the web!
John C.
Greensboro GA
Stayed October 6, 2017 to October 10, 2017(Smoky Mountain Golden Cabins, Bear Falls cabin )
Siblings Mtn. Getaway
The cabin exceeded expectations: very spacious, fresh smell and clean. The kitchen was nicely stocked with utensils and cookware. The beds were stated as fabulous from all siblings. We had a great time around the fire pit at night. Memories never to be forgotten! Thanks for sharing your mtn. gem!
Charles M.
Jackson, MS
Stayed September 28, 2017 to October 3, 2017(Smoky Mountain Golden Cabins, Bear Falls cabin )
Serene getaway spot
Bear Falls cabin had everything we needed! Great kitchen with lots of supplies, including a dishwasher which made cleanup easy; washer/dryer, which came in handy after fishing and hiking in the rain and mud; hottub and jaccuzi tub for relaxing; lots of games, etc. It was also super close to the park, but also very secluded – we felt like we were in the middle of nowhere, but actually had just a short drive to the park, grocery, etc. Looking forward to staying again with friends! Thanks
March
Washington, DC
Stayed September 12, 2017 to September 15, 2017(Smoky Mountain Golden Cabins, Bear Falls cabin )
Very nice stay !!!
Our family had a great stay. The view is wonderful and it is very quiet. We would definitely like to come back. We were up for the Great Smoky Mtn Half Marathon and it was the perfect surroundings. We used all bedrooms for our big family get together and race. Thanks for the memories.
Lee D.
Cartersville
Stayed September 8, 2017 to September 11, 2017(Smoky Mountain Golden Cabins, Bear Falls cabin )
Great Stay
The cabin was beautiful and very clean. Easy to find. This was the first time we have stayed in Wears Valley and loved it. The cabin had lots if space. I would definitely stay again.
Alesia B.
Dothan, Al
Stayed September 1, 2017 to September 5, 2017(Smoky Mountain Golden Cabins, Bear Falls cabin )
Fantastic Bear Falls stay
Our group had a fantastic time at Bear Falls. It wa a group of eight women who are all friends and knitters. We reserved it for the eclipse weekend and had a great time. The cabin was very clean and well furnished. We used the kitchen and it had all the equipment we needed. We also used the grill. The wrap and porches were great too. Lots of outdoor sitting and dining. We would all highly recommend a stay with Black bear Cabins.
Deborah Z.
Dayton
Stayed August 18, 2017 to August 23, 2017(Smoky Mountain Golden Cabins, Bear Falls cabin )
Awesome, secluded place!!
This place was AWESOME! We had 10 people stay and it was pretty comfortable. Loved the privacy and the fire pit! Very close to so many activities!!
Brenda C.
Charlotte, NC
Stayed August 10, 2017 to August 14, 2017(Smoky Mountain Golden Cabins, Bear Falls cabin )
Bear Falls Cabin
Everything about the cabin was amazing. We had such a great time. The location is great to the park and surrounding area attractions. The space is great for a group of people We will definitely be looking into renting the cabin again. Thanks, Brian
Brian S.
Bloomington, IN
Stayed July 6, 2017 to July 10, 2017(Smoky Mountain Golden Cabins, Bear Falls cabin )
Wonderful Cabin
We LOVED the cabin. Very roomy. Very clean. Plenty of towels. The beds were very comfortable. The setting is very nice. Big porches. Highly recommend! We would absolutely stay here again.
Stacey H.
Bartlett TN
Stayed May 4, 2017 to May 7, 2017(Smoky Mountain Golden Cabins, Bear Falls cabin )
Family Vacation
My family really enjoyed our stay at the Bear Falls Cabin. The cabin was clean, neat and beautifully decorated. We are already planning our next visit to the Smoky Mountain Cabins.
Kimberly H.
Valparaiso, IN
Stayed March 16, 2017 to March 20, 2017(Smoky Mountain Golden Cabins, Bear Falls cabin )
Bear Falls Cabin
We loved our stay at Bears Fall Cabin. It was clean, roomy and the beds were comfy. Even thought it was February, we were able to make smores at the fire ring. We've decided to start planning a trip back for next year!
Lisa T.
Proctorville
Stayed February 17, 2017 to February 21, 2017(Smoky Mountain Golden Cabins, Bear Falls cabin )
I Love Bear Falls!
This cabin is absolutely wonderful. My husband and I rented the space for a couples getaway and everyone was pleased. The cabin was very easy to get to and there were places to eat and get groceries nearby. The cabin was clean and stocked with soap, towels, paper plates and other supplies. We all felt very welcome and are looking forward to returning in the summer.
Deahnna L.
Columbia, SC
Stayed February 10, 2017 to February 13, 2017(Smoky Mountain Golden Cabins, Bear Falls cabin )
Bear Falls Cabin -Amazing
Very beautiful and peaceful. Spacious layout and all around great cabin for a weekend or week away!
Amy C.
Rock Hill, SC
Stayed January 12, 2017 to January 17, 2017(Smoky Mountain Golden Cabins, Bear Falls cabin )
Secluded and Wonderful
The cabin was wonderful. I loved the location and having the outside area to roam with my grandgirls. We loved the cave and the waterfall. The cabin was well kept and maintained.
Connie T.
Chattanooga
Stayed December 16, 2016 to December 21, 2016(Smoky Mountain Golden Cabins, Bear Falls cabin )
Cozy and inviting!
We thoroughly enjoyed our stay in the Bear Falls cabin. It was beautiful and so comfortable for our stay with family. We enjoyed the large lovely kitchen for preparing meals and gathering in the large living room with the cozy fireplace and wall of windows was fabulous. Thank you!
Steve S.
Stayed December 13, 2016 to December 17, 2016(Smoky Mountain Golden Cabins, Bear Falls cabin )
Family "Thanksmas" Vacation
Black Bear Hollow means more to us than the tired old cliche' "Home Away From Home". We vacationed in several of the Black Bear Hollow cabins over the last fifteen years. For the last four years we have utilized Bear Lodge & Bear Falls for our family's Thanksgiving & Christmas holidays. The cabins are spacious, well furnished, clean and have all the amenities that we need to have a great time in the Smokies. The cabins are secluded in a great peaceful & serene setting. As all the kids said as they walked in this year "Hey, I'm Home".
William & Amie C.
Peachtree Corners, Georgia
Stayed November 30, 2016 to December 8, 2016(Smoky Mountain Golden Cabins, Bear Falls cabin )
Fall break!
Every year the most family gets together with some friends also and rent a large cabin to get away from the real world and relax. Bear Falls tell nothing short of what we wanted. Had no complaints at all and would stay here again.
Cheyenne A.
Manchester, TN
Stayed October 5, 2016 to October 10, 2016(Smoky Mountain Golden Cabins, Bear Falls cabin )
Perfect place – perfect location!
We stayed in Bear Falls for our son's wedding. We had a total of 13 people, spanning 3 generations, for the weekend while my husband and I had a couple days by ourselves. The cabin was perfect for the whole situation. I can't recommend this cabin highly enough. We took time to enjoy the hot tub and the fire pit while the kids enjoyed the foosball, air hockey, and pool tables. It was perfect for spending time with family for such a special weekend!
Pamela M.
Camden, Ohio
Stayed September 28, 2016 to October 6, 2016(Smoky Mountain Golden Cabins, Bear Falls cabin )
GREAT STAY!!
Beautiful cabin! Very accommodating for large groups. We absolutely LOVED our stay here!!
Tiffany C. and Jesse F.
Marathon, FL Keys
Stayed September 11, 2016 to September 16, 2016(Smoky Mountain Golden Cabins, Bear Falls cabin )
Private, Large & Cozy
We (a family of 6) had a great week long stay. The cabin was fabulous. Large but cozy and cute but not cheesy. The beds are super comfortable and everything was clean. We had one small issue that was QUICKLY resolved by the owners. They are very responsive and friendly. We Would recommend this cabin highly. Our only negative would be that we were traveling with a 2 year old and there are lots of stairs to be mindful of…
Wall Family
CT
Stayed August 20, 2016 to August 26, 2016(Smoky Mountain Golden Cabins, Bear Falls cabin )
Smoky Montains
My family and I thoroughly enjoyed our stay at Bear Falls! The cabin was very clean and spacious and easily accommodated our family of 12. My dad, brothers and nephew really enjoyed the pool table. This was our first visit to the Smoky Mountains but it will not be our last. Thanks so much for a memorable vacation. God bless.
Beverly K.
Mantee, MS
Stayed June 30, 2016 to July 8, 2016(Smoky Mountain Golden Cabins, Bear Falls cabin )
Family Vacation
This was a great place to stay with our children and grandchildren we had plenty of room and lots to do. Our first day we had some AC problems made a call and it was taking care of quickly. We will definitely rent from Smoky Mountain Secluded cabins again
Diane C.
Round O, SC
Stayed June 3, 2016 to June 7, 2016(Smoky Mountain Golden Cabins, Bear Falls cabin )
Excellent vacation
My family had a great stay in the cabin and smoky mountains. The cabin is absolutely beautiful. Definitely would recommend to anyone wanting a get away that is so relaxing and peaceful. We loved being in the hot tub and watching the sun set over the mountain. Thank you so much for allowing us to stay in your cabin. God Bless!
Peggy S.
Canalou, MO
Stayed May 22, 2016 to May 26, 2016(Smoky Mountain Golden Cabins, Bear Falls cabin )
Beautiful Cabin
We enjoyed our stay in your very clean and comfortable cabin. Although it was only the two of us it still seemed cozy. Of course we pretty much just used the main floor. The cabin is close enough to Pigeon Forge and Gatlinburg but not too close. We really like how secluded it is. The highlight of the trip was our visits to the national park. It is spectacular! We hope to come back with our adult children and stay at Bear Falls again. Oh, the couches are amazing and the bed was very comfortable too.
Martha H.
Grand Blanc, MI
Stayed May 16, 2016 to May 21, 2016(Smoky Mountain Golden Cabins, Bear Falls cabin )
Awesome
Several of us Southern guys rode up on our bikes for a weeks stay. This place was perfect for what we needed. Nine of us were very comfortable. Everything went just as planned except for one day of rainy weather. Highly recommended!
Steve E.
Magnolia,AR
Stayed May 1, 2016 to May 7, 2016(Smoky Mountain Golden Cabins, Bear Falls cabin )
Just a getaway
Absolutely loved the cabin. The beds were so comfortable. The scenery was stunning. Beautiful all the way around. I would suggest updating the stereo to one that has an aux plug. Would gladly come back again.
Jessica P.
Lexington, KY
Stayed May 13, 2016 to May 16, 2016(Smoky Mountain Golden Cabins, Bear Falls cabin )
Bliss in the Mountains
Our stay at Black Bear Falls cabin was the best. Where were 8 of us, my husband, myself and our three adult kids and their significant others. There was plenty of room for privacy and an open floor plan when we gathered. The cabin was very conveniently located to all the attractions in Pigeon Forge and Gatlinburg. Also just 10 minutes from the entrance to the National Park. We all LOVED this cabin. It is beautiful, clean and my family made memories there. We will be back!!! Thank you for sharing your amazing cabin in the mountains with us.
Cheryl P.
Metamora, Michigan
Stayed April 16, 2016 to April 24, 2016(Smoky Mountain Golden Cabins, Bear Falls cabin )
Bear Falls
We thoroughly enjoyed our stay in the Smoky Mountains. The cabin was perfect for our needs, with plenty of beds, a nice kitchen and game tables for our inside time. We enjoyed s'mores over a fire in the fire pit one evening. There were plenty of linens and the cabin was very clean. We hope to return someday and explore the areas we did not have time to explore on this trip!
Virginia K.
Fort Wayne, IN
Stayed April 5, 2016 to April 10, 2016(Smoky Mountain Golden Cabins, Bear Falls cabin )
Bear Falls Cabin
What a great cabin for our group. We have been going on trips to watch the final four for 36 years. We come from all over. Cincinnati, St Louis, Omaha, Atlanta and Indianapolis. We have been coming to the Gatlinburg area most of these trips and this is the first time we actually had plenty of space for all to stretch out. Easy access to the local grocery store, restaurants and golf courses. Very private and quiet. Nice to hear of the new changes to the cabin. As a group we really liked the cabin and like to come back if the cabin is available the first weekend of April in 2017. Only suggestion these old men made was maybe a larger screen TV in the living room area. Thanks again! Tom
Paul S
Independence, KY
Stayed March 29, 2016 to April 6, 2016(Smoky Mountain Golden Cabins, Bear Falls cabin )
Family Gathering
Had a blast. I hadn't been under the same roof with my siblings in over 25 years. It was great atmosphere to be house for the weekend together and nice giant cabin to house all of us. Thanks for the southern hospitality!
Willis N.
Milwaukee, Wisconsin
Stayed March 26, 2016 to March 30, 2016(Smoky Mountain Golden Cabins, Bear Falls cabin )
Bear Falls is Perfect!
This is the second time that our campus ministry has booked a cabin with the Tisch family and we have no plans of ever booking with anyone else. The Tisch family have always been quick to respond to any questions, have strove to go above and beyond to make each stay the best one, and we always know that our stay will be top-notch. Bear Falls was roomy, the accommodations surpassed all expectation–beautiful scenery, large cabin, comfy beds, and plenty of seating–not to mention a fantastic all of this was at a fantastic price!
Austin H.
Cape Girardeau
Stayed March 13, 2016 to March 20, 2016(Smoky Mountain Golden Cabins, Bear Falls cabin )
Very satisfied!
The cabin is spacious, clean, has beautiful views, and is centrally located to many attractions! We will definitely be back!
Sarah K.
Tampa, FL
Stayed February 15, 2016 to February 21, 2016(Smoky Mountain Golden Cabins, Bear Falls cabin )
Great Place to Stay!!!
Black Bear Falls is a gorgeous cabin! The house is well decorated and the fireplace was wonderful. We cooked our meals almost every night in the beautiful, well-stocked kitchen and enjoyed game after game of pool, air hockey, and fooseball in the upstairs loft and downstairs game room. It was great that the linens were provided (less packing for us) and the beds were very comfortable. The owners were very easy to work with, even when we had some surprise guests come and stay with us for one night. Since it was winter time and the chance of snow was very likely, we were concerned with snow; however, there was no need because the house is easily accessible with a paved driveway and only a few hundred feet off of the main road. The cabin is only a little drive away from downtown Pigeon Forge, Gatlinburg and also Cades Cove (where we seen some HUGE bucks and a black bear) which was fantastic because we went to several attractions and shopping there. Black bear falls is a perfect place to stay for anyone going on a family vacation to the Great Smoky Mountains. Might I also add that the picnic area with the fire pit and the cave were also really cool features to this property.
Kay
Wilkes County, NC
Stayed November 13, 2014 to November 19, 2014(Smoky Mountain Golden Cabins, Bear Falls cabin )
Beautiful Black Bear Falls!
Our family of five and two friends stayed five nights at Black Bear Falls and had a wonderful time. The cabin is very spacious and clean! It has three levels, so our kids were spread out and had space for themselves. The owners always responded to my questions in a very timely manner. The part I liked best was the ease of arrival and departure. We were given a code to the door, so we didn't have to stop anywhere to pick up or drop off keys which takes time away from vacationing. We were there in March so we had a few cold nights, but the fireplace kept us cozy and warm. The kids took walks, built fairy houses down by the waterfall, played volleyball at the picnic area and used the hot tub every day. We were centrally located, so we were able to spend time in Townsend (check out the swinging bridge behind Lilly's Cafe!) and go to some attractions in Pigeon Forge. We went horseback riding, explored Tuckaleechee Caverns, shopped at the outlets, rode the alpine coaster, went to a great magic show at Wonderworks, and even flew in a helicopter! It was always so nice to come back to relax in the inviting cabin. Would definitely recommend Black Bear Falls and renting from the Tisch family.
Kristen K.
Knoxville, TN
Stayed March 16, 2015 to March 21, 2015(Smoky Mountain Golden Cabins, Bear Falls cabin )
"Bear Falls" / Cabin Inventory
Bear Falls cabin is filled with excellent furnishings & amenities. Your going to love the gourmet kitchen that is fully equipped with everything you will need to prepare those special family dinners that everyone will be talking about for years to come! We have included this travel planner to help you with knowing what to pack and what you might need to bring.
  Bed & Bath Furnishings:
King Size Beds
Queen Size Beds
End table w/ drawers
Flat Screen TVs
Lamps
Large Jacuzzi Tub
closets
mirrors
Shower with Tub
Sink
Toilet
Bath Towels
Hand Towels
Wash Cloths
Bedding for Bed
Pillow Top Mattress & Pillows
Front Load Washer / Dryer
Laundry Detergents
Ironing Board & Iron
  Living & Dining Room Furnishings
Dining Room Table & Chairs
Sofa
Love Seat
Reclining Chairs
Stacked Stone Gas Log Fireplace
Flat Screen Television
DVD Player
Coffee Table
End Table
Lamps
  Game Room Furnishings
Slate Pool Table
Several Cue Sticks
ball racks
Cue Stick Rack
16 Balls & Cue, Chauk
Brushes
  Kitchen & Appliances
Granite Counter Tops – Gourmet Kitchen! Refrigerator – Freezer
Glass Top Stove w/ oven
Dishwasher
Microwave
Coffee Maker
Toaster
Can Opener
Kitchen Towels
Paper Towels
Coffee Filters
Salt, Pepper & Spices
Dishes, Cups, Plates & glasses
Sliverware
Knives
Cutting Boards
Cooking Utensils
Cookie Sheets
Pots & Pans
  Porches & Decks
Large Covered Front Porch
Patio Table
Patio Chairs – 4
4 Log Rocking Chairs

Gas BBQ Grill
L.P. Gas & Tank
BBQ Utensils

Lower Level Deck:
Rocking Chairs
6-8 person Hot Tub
Hot Tub Cover
Rental Agreement
1. AGE: To reserve this cabin, you must be at least 28 years old. We do not rent to sororities, fraternities, college or high school groups. Groups of unrelated guests need prior approval. For questions, please call 865-202-7657
2. PAYMENTS: To make a reservation we require 1/3 of the total rental amount down on a credit card with the balance due 30 days prior to your arrival date. Reservations will be cancelled for failure to pay the balance after 2 days late. The cabin/property will be put back on the calendar and advertised for rent to another party.
3. CANCELLATIONS: The fee to cancel is equal to 1/3 of the total rental amount (same as your first payment). Cancellations received 30 days or less, prior to the arrival date, will be responsible for the entire rental amount unless the cabin is rented to another party. (it may be necessary to discount the cabin last minute in order to rent it and any refund will be for the difference and less the fee to cancel.)
4. SECURITY DEPOSIT: In lieu of collecting a security deposit, Smoky Mountain Golden Cabins and the owners, Donn and/or Margaret Tisch, reserve the right to charge your credit card for damages or loss beyond normal wear and tear and violation of this rental agreement.
5. INSURANCE: We strongly recommend purchasing travel insurance for unintended cancellation, disruption of utilities, inclement weather, Acts of God, accidental damage, accidents, injury, break downs, medical emergencies and any other unintended consequences. We do not refund money for early departures, power outages, inclement weather or other disruptions to appliances, amenities or any of the conditions (afore mentioned or not) that is beyond of our control.
6. CHECK /IN TIMES: Check in time is at 4 pm. On certain days/times of year the cleaning crew is very busy. They do their level best to have every cabin ready by 4 pm. Every effort will be made to have your cabin ready by 4 pm, but we do not give refunds or compensation if it is not ready on time. Likewise, if your cabin is ready early, you're welcome to check in up to two hours early and we do not charge for that. (Please contact our office on the day you arrive to see if your cabin is ready to check in early).
7. CHECK /OUT TIMES: Check out is before 10 am. It is necessary that the cabin be vacant and ready to clean when the cleaning company arrives. There is a late charge of $50 per hour for anyone checking out after 10 am.
8. DEPARTURE: Before you depart, leave the beds unmade. Put towels & linens in the bath tub. Wash dishes or run dishwasher. Leave trash in trash can provided, dumpster or in the kitchen. Lock doors and windows. Set thermostat to 70 degrees. Return furnishings to where they were when you checked in. Leave televisions in a connected/wired/programed fashion to local channels. Leave the remote on a nearby table. Please leave the property/cabin and grounds in the condition that you found it.
9. SMOKING: All of our vacation homes/cabins are Non-smoking. You may smoke outdoors if you safely dispose of, extinguish smoking material and pick up your cigarette butts.
10. NO PETS: This is not a pet friendly cabin.
11. PARTY POLICY: We do not allow parties of any kind. We reserve the right to ask anyone to leave the property without notice or refund for having a party.
12. VISITORS: Non-paying guests are not allowed unless permission is granted in advance.
13. PARKING: There is parking for 4 cars in the driveway.
14. WINTER DRIVING: It is possible for there to be snow and/or ice storms during winter months. We will make every effort to plow, salt and assist you in reaching the cabin (time, supplies & equipment permitting). We are not responsible or liable for the weather, condition of the road/driveway or your ability to reach or depart from the cabin.
15. IMPROPER USE OF PROPERTY: We reserve the right to ask anyone to leave our cabin/property without notice or refund for any kind of improper use of the cabin. Abusing our vacation home is not allowed and we reserve the right to bill your account for repairs, damage or loss caused that is outside of normal wear and tear.
16. ACCESSIBILITY: It may be necessary on occasion for us to gain entry into the property during your stay (for example: scheduled pest control) we, our representatives and/or maintenance personnel reserve the right to enter the property if necessary. We promise to keep this to an absolute minimum.
17. CLEANING: The cabin/property will be inspected and cleaned after departure. The cleaning fee includes laundering of bedding, linens and towels. Tenants are required to leave the property in the same general condition that it was found/received in by making sure that dishes are washed and put away. And that the property has been picked up, furnishings replaced, televisions programed/connected/working, and the property is ready to be vacuumed, dusted and laundered. 
18. HOT TUB: You and your guests use the hot tub at your own risk. You must keep the hot tub covered when not in use. You must read and follow all directions and safety procedures before using the hot tub. They are posted near the tub or in the cabin book. Do not sit, stand on or damage hot tub covers. 
18a. POOL TABLES: Do not attempt to move the pool table.  You will be held responsible for repairs or replacing the pool table. 
19. AIR CONDITIONER: Do not use the Air Conditioner or Furnace with the windows or doors open. Do not use the Fireplace & Air Conditioner at the same time. This is a waste of gas and electricity, causes the unit to freeze and will cause permanent damage to the unit leaving you without heat or air condition for duration of your stay. Please be responsible.
20. FIREPLACES: All fireplaces are seasonal. Depending on weather, they are usually turned on in October and turned off in March. All fireplaces are on a timer. Do not attempt to light, adjust or cook on fireplace. Do not move the logs.
21. FIRE WORKS: Shooting or Possessing Fire Works at any of our cabins/property is prohibited.
22. WILDLIFE/PESTS: Welcome to the mountains! We do have wild animals in the woods. Insects and pests are not uncommon in the mountains either. Each property/cabin is routinely inspected and treated for insects and pests. Do not leave doors or windows open. Do leave food out on the counter.  Do not encourage insects, pests or wild animals. Please help us maintain the cabin for future guests.
23. LIMITS OF LIABILITY: By renting this property and signing this document you are assuming all risk and liability for any damage or loss done to persons, property, agents, employees or visitors occasioned by the present or future condition of the premises, both latent and manifest. Smoky Mountain Golden Cabins, the owners, Donn and Margaret Tisch, their employee's or contractors are not responsible for any loss due to theft, items left behind, accidents or injuries to guests or visitors due to negligence or lack of personal responsibility.
24. ATTORNEY COSTS: If Smoky Mountain Golden Cabins or its owners, Donn and Margaret Tisch employ the services of an attorney to enforce any of the conditions of this agreement to collect amounts due, damages or losses, then the tenant shall be liable for attorney fees and costs incurred by them.
25. Amenities Liability Waiver/Hold Harmless Agreement: Please acknowledge that neither the property owner, or Smoky Mountain Golden Cabins is liable for any "bodily injury, or death" caused as a result of the use of amenities at this rental property, except under pure negligence on the part of the owner or Smoky Mountain Golden Cabins. Amenities are defined as (Swimming pools, hot tubs/spas, saunas, exercise equipment, small watercraft, bicycles, fire pits, playgrounds, fishing, recreation areas, and similar).