Cabin Summary:
Bedrooms: Studio
Sleeps: 2
Setting: Valley setting with mountain views
Location: Wears Valley, Tennessee
Price Range: $119 – $189
    …See our Online Guestbook here!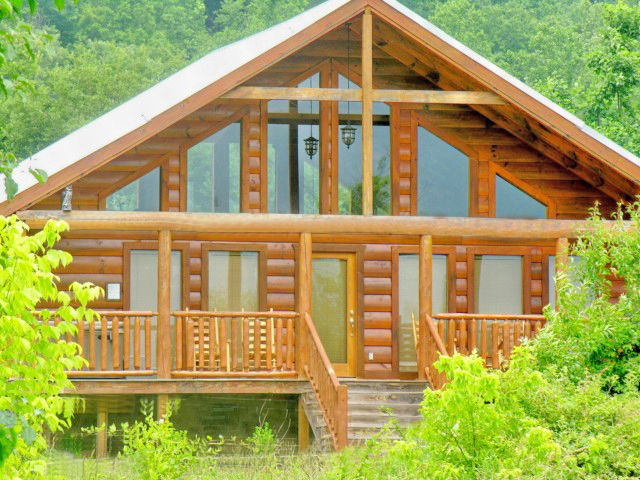 *Click any photo to enlarge images*
Golden Memories is a beautifully decorated studio cabin in a charming country setting! The cabin is centrally located in peaceful Wears Valley, and only minutes from Pigeon Forge, Smoky Mountains National Park and Cades Cove! There is a great wall of windows that stretch across the front of the cabin and affords our guests a fantastic view of Cove Mountain from the cabin interior or the large covered front porch! One of the unique features of this cabin are the massive pine cathedral ceilings that cover the entire 936 square feet of open floor space! Golden Memories is perfect for anyone seeking a honeymoon, anniversary or romantic getaway vacation!
Amenities & Features:

Personal Tour Video

Full Size Slate Pool Table
Hydro~Massage Deluxe Hot Tub
 Free Internet High Speed WiFi
50″ Flat Screen TV
Comcast Cable
85+ Channels – DVD Player
Large Heart Shaped Two Person Jacuzzi Tub
Seasonal Gas Log Stacked Stone Fireplace
Hand Crafted King Bed – Hickory Logs
Pillow Top Mattress
Dishwasher – Microwave
Swimming Pool Access ($5 daily fee)
Fully Equipped Kitchen
Washer/Dryer (Front Load)
Starter supply of detergents, paper products
Two Grills – Propane on Covered Porch – Charcoal on Patio
Huge Covered Porch with beautiful Mountain Views

Extras:

Renew your Vows or Get Married in the cabin!
Easy All-Weather Access!
Good Cell Phone Service!
Authentic Log Cabin!
All Hardwood Oak Floors!
Plus+ Size Rocking Chairs!
Key less Entry Locks!
Express Check In / Out! Drive straight to the cabin!
Outdoor Fire Pit! Fire under the stars!
Professionally & Tastefully Decorated!

Cabin Updates:

(swimming pool is 2 miles up the road & the daily fee is only $5/per guest)
"Golden Memories" / Guest Reviews!
Many guests have left us reviews online, in our guestbook and through emails over the past few years!  We are very pleased to share just a few of them here with you! Book your reservation in this fantastic cabin and share your experience's at the cabin here.
   We also have an Online Guestbook here!
  Beyond Relaxing!     5/5 Stars!★★★★★
  I  genuinely can't say enough wonderful things about the Golden Memories cabin. It was spotlessly clean down to every last detail which means a lot to my husband and I when we vacation. We had never rented a home before this trip and Donn had wonderful communication before we arrived which made me feel completely comfortable. All of the descriptions that Donn gives are true so I won't repeat what has already been said but I would like to include a few things that aren't discussed in the listing. Pigeon Forge and Gatlinburg are extremely busy places and all of the rentals seemed like they would just be looking at other homes and businesses. Golden Memories is less than ten minutes from Pigeon Forge and under fifteen minutes from Gatlinburg but completely removed from all the touristy hustle and bustle. There just wasn't anything more relaxing than sitting in the hot tub on the deck in the afternoons with the horses to our right and staring out at nothing but trees and mountains. The wireless internet worked great inside the cabin and on the deck and our AT&T cell phones had perfect reception at the cabin but we didn't have reception at some places in town. There is a Kroger on your way into Pigeon Forge that was extremely convenient to stop and pick all of our groceries up at. Overall I wouldn't hesitate to recommend Golden Memories. After four nights at this cabin we left as relaxed as we did after vacations that were ten times more expensive. Go and enjoy!! — Cathy & Dominic, Chicago, Il
---
  Perfect Week! 5/5 Stars!★★★★★
  We were pleasantly surprised when we opened the front door and saw how neat and clean the cabin was. It didn't take but a few minutes to know that Donn and Margaret really care about the comfort of their renters as well as to make evident their lifestyle. The cabin is very convenient to the Dollar Store, restaurants, stores and the church of your choice. It's close to almost anything you would choose to do and just the perfect drive to enjoy the beauty around you. The view of the mountain is absolutely beautiful and when the horses came up to the fence, it looked like a picture…it is…one that only God can paint!!! We would definitely recommend it to our friends and plan to go again next year. Thank you Donn and Margaret for allowing us to use your beautiful cabin for 10 days. Btw, I found the heart in the ceiling. — The Wilkerson's, Selma, AL
---
  Great Location! 5/5 Stars! ★★★★★
  This was a unique cabin and we enjoyed our stay here. It is very close to the Great Smokie Mountain National Park on one side and the excitement and business of Pigeon Forge and Gatlinburg on the other side. The cabin was very clean and they gave us attentive service as well. — Tina, Orlando, FL
---
  Definitely do Golden Memories !    5/5 Stars! ★★★★★
  Beautiful cabin, great location. Far enough from Pigeon Forge to escape the lights and noise, but close enough to be there in a few minutes. Sunrise and sunset views were great. The neighboring houses/cabins were close by, but we hardly saw anyone and heard no one. Great produce and barbecue are to be found at the farm stand at the bottom of the hill. This is a perfect place for a couple or small family. We hesitantly recommend this place only because we'd like to keep this hidden treasure to ourselves — Doug & Kim, Knightengale, NC
---
  Great Place – Everything is as Advertised!  5/5 Stars! ★★★★★
  PERFECT! That's how my wife and I would describe our week at Golden Memories. What a great place to recharge our 31 year long marriage & to reconnect after her year in nursing school. Great sunrises, quite times with the Lord and with each other. Thanks so much. — J-Lo, Franklin, TN
---
  Superb! 5/5 Stars! ★★★★★
  The cabin is spotless and peaceful. It is better than what you see in the pictures. We loved the decor and the aroma of pine. You feel like you have your own home away from home as opposed to being a part of a tourist complex. With check in being self serve, we were not disturbed by anyone over our entire three days, yet we always had the confidence that assistance was only a telephone call away. Be aware that although the cabin has wireless internet, it does not have a telephone. Mobile phone reception was good. We will definitely be returning in the future! Happy Customer, Richmond Hills, Ontario, Ca
---
  "We loved our stay at this cabin!"    5/5 Stars! ★★★★★
  My husband and I rented this cabin for two nights to celebrate our fifth wedding anniversary. We had great communication with Donn and Margaret from day one and the website was very helpful for letting us know what kind of accommodations we were getting and what the inventory of the cabin included.

We had detailed directions from Donn sent to us in an email, which we printed and brought along. Good thing we did, because the place is certainly off the beaten path! The location was perfect, though. Close enough to things we wanted to do, but far enough out in the country that we felt relaxed and secluded. There were neighbors nearby, but we never saw or heard anyone and we still felt like we were in a very private location.

We arrived on Tuesday. We brought our stuff inside and got oriented with the layout of the cabin. Taking a peek outside, we could see the mountains in the distance — it was absolutely breathtaking! We were tired from the drive so we laid down on the bed and fell in love with the mattress. It was quite possibly the most comfortable mattress I've ever slept on!

We very much enjoyed the decor of the cabin, the warm, homelike feel, and the layout was perfect for just the two of us. The hottub was absolutely perfect and we loved sitting in it and enjoying the spectacular view. The rocking chairs on the deck were wonderful, as well. We loved that there were dishes and silverware fully stocked in the cupboards and drawers, and especially appreciated the coffee filters for our coffee in the morning! The place was also impeccably clean when we arrived, not a speck of dust or a hair anywhere.

We were so at home in our little "home" in the mountains that it was hard to leave this morning. We loved it there, and Donn and Margaret do a great job. We would definitely recommend this cabin to anyone! — Rhinelander, Wisc.
"Golden Memories" / Cabin Inventory
  Golden Memories is furnished with great furnishings, amenities and appliances. From time to time as needed, we update the cabin with new or replacement items. So for things that are "must have" items,  we ask that you check with us prior to making your travel plans.
  Bed & Bath Furnishings:
King Size Hickory Log Bed
Hickory End table w/ drawers
Log Hickory End table
Pine Dresser
2 Cast Horse Lamps
2 six ft. Silk Tree
Large Heart Shaped Jacuzzi Tub
2 closets
2 mirrors
Shower with Tub
Shower Curtain
Pedestal Sink
Toilet
Bath Towels
Hand Towels
Wash Cloths
Bedding for King Bed
Pillow Top Mattress & Pillows
Front Load Stacked Washer / Dryer
Starter Laundry Detergents
Ironing Board & Iron
Furnishings Living & Dining Rooms:
Dining Room Table & 4 Chairs
Bonded Leather Sofa
Reclining Mission Style Chair
Stacked Stone Gas Log Fireplace
50 inch Flat Screen Television
DVD Player
Wireless Internet router
5′ X 7′ Oriental Rug
Slab Black Walnut Coffee Table
Hickory Log End Table
Black Bear Lamp
Floor Lamp
3.5′ X 7′ Connelly Mahogany Slate Pool Table
Several Cue Sticks including some custom made
Eight & Nine ball racks
Cue Stick Rack
16 Balls & Cue Chauk
Brushes
Kitchen:
Refrigerator – Freezer
Glass Top Stove w/ oven
Dishwasher
Microwave
Coffee Maker
Toaster
Blender
Can Opener
Kitchen Towels
Paper Towels
Coffee Filters
Salt, Pepper & Spices
Dishes, Cups, Plates & glasses
Sliverware
Knives
Cutting Boards
Cooking Utensils
Cookie Sheets
Pots & Pans
Front Porch Area:
36′ X 8′ Covered Front Porch
3 Person Reclining Hot Tub
Hot Tub Cover
Hot Tub Steps
Log End Table
2 Plus-Size Log Rocking Chairs
2 Occasional Patio Rocking Chairs
Stainless Steel Gas BBQ Grill
L.P. Gas & Tank
BBQ Utensils

Fire Pit:
– 2 Adirondack Chairs
– Fire Pit Ring
– Fire Pit Wire Cover
– Rock Patio
(There are places near by that sell fire wood)

Back Porch & Patio:
Covered Back Porch
Covered Trash Can
Cement Patio Area
Charcoal BBQ
Travel Times-
Golden Memories is in a wonderful central location that will save you valuable travel time when visiting all the area attractions!
Distances to:

Pigeon Forge – 11 minutes
Gatlinburg – 23 minutes
Great Smoky Mountains National Park – 8 minutes
Cades Cove – 32 minutes
Townsend – 13 minutes
Dollywood – 20 minutes
Knoxville Airport – 45 minutes

(times taken from Google maps)
Rental Agreement
1. AGE: To reserve this cabin, you must be at least 21 years old. We do make exceptions, please call 865-202-7657
2. PAYMENTS: To make a reservation we require 1/3 of the total rental amount down on a credit card with the balance due 30 days prior to your arrival date. Reservations will be cancelled for failure to pay the balance after 2 days late. The cabin/property will be put back on the calendar and advertised for rent to another party.
3. CANCELLATIONS: The fee to cancel is equal to 1/3 of the total rental amount (same as your first payment). Cancellations received 30 days or less, prior to the arrival date, will be responsible for the entire rental amount unless the cabin is rented to another party. (it may be necessary to discount the cabin last minute in order to rent it and any refund will be for the difference and less the fee to cancel.)
4. SECURITY DEPOSIT: In lieu of collecting a security deposit, Smoky Mountain Golden Cabins and the owners, Donn and/or Margaret Tisch, reserve the right to charge your credit card for damages or loss beyond normal wear and tear, and for violation of this rental agreement.
5. INSURANCE: We strongly recommend purchasing travel insurance for unintended cancellation, disruption of utilities, inclement weather, Acts of God, accidental damage, accidents, injury, break downs, medical emergencies and any other unintended consequences. We do not refund money for early departures, power outages, inclement weather or other disruptions to appliances, amenities or any of the conditions (afore mentioned or not) that is beyond of our control.
6. CHECK /IN TIMES: Check in time is at 4 pm. On certain days/times of year the cleaning crew is very busy. They do their level best to have every cabin ready by 4 pm. Every effort will be made to have your cabin ready by 4 pm, but we do not give refunds or compensation if it is not ready on time. Likewise, if your cabin is ready early, you're welcome to check in up to two hours early and we do not charge for that. (Please contact our office on the day you arrive to see if your cabin is ready to check in early).
7. CHECK /OUT TIMES: Check out is before 10 am. It is necessary that the cabin be vacant and ready to clean when the cleaning company arrives. There is a late charge of $50 per hour for anyone checking out after 10 am.
8. DEPARTURE: Before you depart, leave the beds unmade. Put towels & linens in the bath tub. Wash dishes or run dishwasher. Leave trash in trash can provided or in the kitchen. Lock doors. Set thermostat to 70 degrees. Return furnishings to where they were when you checked in. Leave televisions in a connected/wired/programmed fashion to local channels. Leave the remote on a coffee table. Please leave the property/cabin and grounds in the condition that you found it.
9. SMOKING: All of our vacation homes/cabins are Non-smoking. You may smoke outdoors if you safely dispose of, extinguish smoking material and pick up your cigarette butts.
10. PETS: This is cabin does allow for an approved dog.
A) Pet must meet with prior approval and a fee paid.
B) Pets are not allowed on the beds or furnishings.
C) Pets left alone in the cabin must be in a portable kennel.
D) Pets that chew, bite or are not properly house trained are not allowed.
E) Please pick up after your pet.
11. PARTY POLICY: We do not allow parties of any kind. We reserve the right to ask anyone to leave the property without notice or refund for having a party.
12. VISITORS: Non-paying guests are not allowed unless permission is granted in advance.
13. PARKING: There is parking for 2 cars in the driveway.
14. WINTER DRIVING: It is possible for there to be snow and/or ice storms during winter months. This cabin has never been a problem. We are not responsible or liable for the weather, condition of the road/driveway or your ability to reach or depart from the cabin.
15. IMPROPER USE OF PROPERTY: We reserve the right to ask anyone to leave our cabin/property without notice or refund for any kind of improper use of the cabin. Abusing our vacation home is not allowed and we reserve the right to bill your account for repairs, damage or loss caused that is outside of normal wear and tear.
16. ACCESSIBILITY: It may be necessary on occasion for us to gain entry into the property during your stay (for example: scheduled pest control) we, our representatives and/or maintenance personnel reserve the right to enter the property if necessary. We promise to keep this to an absolute minimum.
17. CLEANING: The cabin/property will be inspected and cleaned after departure. The cleaning fee includes laundering of bedding, linens and towels. Tenants are required to leave the property in the same general condition that it was found/received in by making sure that dishes are washed and put away. And that the property has been picked up, furnishings replaced, televisions programed/connected/working, and the property is ready to be vacuumed, dusted and laundered.
18. HOT TUB: You and your guests use the hot tub at your own risk. You must keep the hot tub covered when not in use. You must read and follow all directions and safety procedures before using the hot tub. They are posted near the tub or in the cabin book. Do not sit, stand on or damage hot tub covers.
19. AIR CONDITIONER: Do not use the Air Conditioner or Furnace with the doors open. Do not use the Fireplace & Air Conditioner at the same time. This is a waste of gas and electricity, causes the unit to freeze and will cause permanent damage to the unit leaving you without heat or air condition for duration of your stay. Please be responsible.
20. FIREPLACES: All fireplaces are seasonal. Depending on weather, they are usually turned on in October and turned off in March. All fireplaces are on a timer. Do not attempt to light, adjust or cook on fireplace. Do not move the logs.
20a. FIRE PIT: Please use caution when lighting a fire. Do not scrounge the woods for fire wood. Fire wood should be purchased from a local vendor. Fires need to be full extinguished when not supervised. Unexpected high winds at night are not uncommon. You are responsible if you start a forest fire, please use extreme caution.
21. FIRE WORKS: Shooting or Possessing Fire Works at any of our cabins/property is prohibited.
22. WILDLIFE/PESTS: Welcome to the mountains! We do have wild animals in the woods. Insects and pests are not uncommon in the mountains either. Each property/cabin is routinely inspected and treated for insects and pests. Do not leave doors or windows open. Do leave food out on the counter. Do not encourage insects, pests or wild animals. Please help us maintain the cabin for future guests.
23. LIMITS OF LIABILITY: By renting this property and signing this document you are assuming all risk and liability for any damage or loss done to persons, property, agents, employees or visitors occasioned by the present or future condition of the premises, both latent and manifest. Smoky Mountain Golden Cabins, the owners, Donn and Margaret Tisch, their employee's or contractors are not responsible for any loss due to theft, items left behind, accidents or injuries to guests or visitors due to negligence or lack of personal responsibility.
24. ATTORNEY COSTS: If Smoky Mountain Golden Cabins or its owners, Donn and Margaret Tisch employ the services of an attorney to enforce any of the conditions of this agreement to collect amounts due, damages or losses, then the tenant shall be liable for attorney fees and costs incurred by them.
25. Amenities Liability Waiver/Hold Harmless Agreement: Please acknowledge that neither the property owner, or Smoky Mountain Golden Cabins is liable for any "bodily injury, or death" caused as a result of the use of amenities at this rental property, except under pure negligence on the part of the owner or Smoky Mountain Golden Cabins. Amenities are defined as (Swimming pools, hot tubs/spas, saunas, exercise equipment, small watercraft, bicycles, fire pits, playgrounds, fishing, recreation areas, and similar).